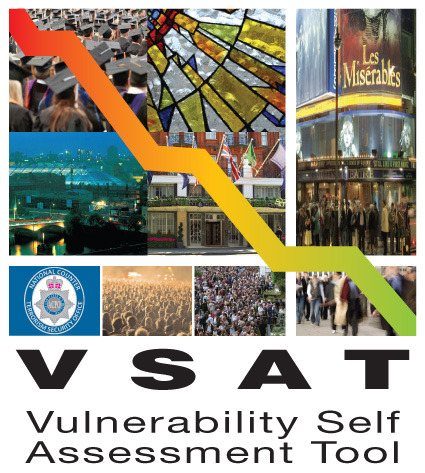 Today we were at the launch of the Vulnerability Self Assessment Tool (VSAT) designed to help businesses and organisations of any size to asses your Security and Business Continuity. The tool was developed by NaCTSO (National Counter Terrorism Security Office) so there is a slight theme around terrorism but it is also relevant to other risks like fires, floods etc. too. This tool is free and is all about raising awareness of how your business can not only survive or bounce back, but bounce forward!
The event featured many key figures including Lord John Reid, Richard Barnes and Russell Price, and the event was chaired by Sir David Veness 'Mr Security'. The event itself was presented extremely well, introducing the tool as a 'dynamic self help tool' aimed at everyone but most especially those 75% of businesses with less than 25 staff who are in the minority when it comes to continuity planning. We were reminded of the impact of Buncefield and the Gloucestershire floods which caused a large number of small businesses to go bust. In the case of the Gloucestershire floods, many businesses lost customer records and had no idea who owed them money and how much! Speakers also highlighted that neither of these events were terrorist attacks. At the core of the development of the tool is the impending '2012′ (no not like the movie) the Olympic games and other celebrations around that time, including; Queen's diamond jubilee, Notting Hill Carnival, the Paralympics and many other events in crowded spaces.
The tool was the joint effort including NaCTSO, London First, Continuity Forum, the Home Office and industry partners and was developed and piloted over the space of 16 months. The tool itself is presented as 32 questions and provides an instant legible 'no jargon' report.
The aim of VSAT is to
Sign posting to best practice
12 months Business Continuity Management tool
Increased local engagement with security experts (CTSA)
Training Opportunities
Written assessment report with recommendations covering, Physical Security, Personnel Security, Information Security, Good House Keeping and Risk Management
Our thoughts: The tool looks a good for getting businesses started. Not too many questions to cause a problem and enough feedback to help organisations. Let see over the coming months how things go and if they shall meet their target of 50,000 businesses using the tool. Unfortunately it currently looks as though you may need to wait until the full press launch to sign up without the help for a CTSA (Counter Terrorism Security Advisor)